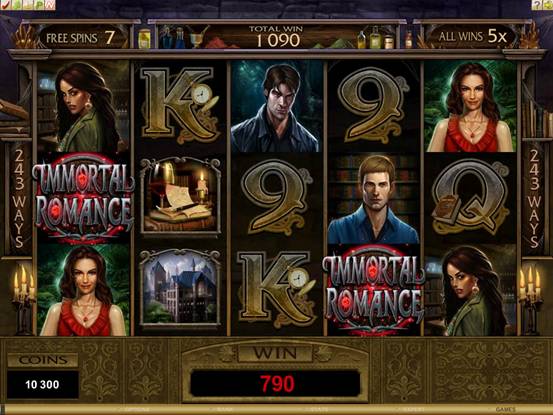 You are going to have to be a dedicated slot player if you wish to get the maximum playing pleasure out of playing the Immortal Romance mobile slot game, for when you play it each time you trigger winning combination and have managed to achieve each set of winning payout associated with each respective reel symbol that set of winning payouts will turn gold on the pay table!
Play Immortal Romance at These Mobile Casinos Now:



Whilst there is no bonus payouts awarded for getting the gold coloured winning payouts on the pay table they are known as achievements and many players like to see themselves doing well when playing a slot and managing to achieve every possible winning combination possible on any slot game they play.
There is a lot to like in addition to the achievements on the Immortal Romance slot game which is one of the many Microgaming 243 ways to wins slot which have gone live on their mobile gaming platforms in recent months, so keep on reading for we are about to enlighten you on what makes this slot a must play slot and one on which you could win some very large winning payouts if everything falls into place as you spin in five reels!
What's on Offer?
You will find several different character symbols in play on the reels of this Immortal Romance slot and whilst they do of course all have their own winning payouts listed on the pay table you will also find that when you spin in three or more of the scatter symbols in view then you will be awarded with a set of free spins.
The free spins you will be awarded with will begin to offer you more and more options in regards to how you play them off but only once you have triggered the bonus games several times, and as such if you want one slot game to play regularly make sure you play this one for as soon as all of the free spins options become unlocked you will have lots of winning opportunities and a lot more excitement when the free spins have been awarded to you.
There is also another bonus feature that you will want to see triggering a lot of times when you play this fun to play 243 ways to win mobile slot and that is the Wild Desire base game feature. At random when you play this slot this bonus feature could be triggered, it is triggered just as you click on the spin button to set a base game spin into live play and when awarded one or all five of the reels will be turned into wild reels.
Get all five of the reels turning wild and that will result in your instantly winning the jackpot payout 243 times which mean you will bag a massive winning payout based on the stake amount you choose when playing off that base game spin!
Why Play this Mobile Slot?
This Immortal Romance slot game really did tick all of our boxes in regards to what we look for, expect and demand from a high action mobile slot game and we think that if you are the type of playing who is looking or what can only be described as a fully rounded slot game to play on any type of touch screen mobile device then this slot really ought to be at the very top of your list of slots to play.
The Wild Desire feature round may not trigger and be awarded to you as often as you would like but boy when it is awarded you are going to be willing for as many of the reels to turn wild as is possible and when that day arrives when the Wild Desire is awarded to you and all five of the reels get turned completely wild then you will be jumping with joy and will have a huge casino account balance when those winnings are added to it which they instantly will be!