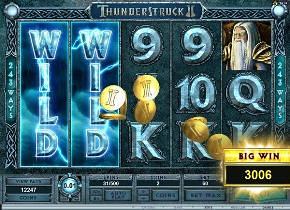 It will probably not be too much of a surprise when you find out that the second slot in the Thunderstruck series of slots that of course being the Thunderstruck II slot game has been designed as a 243 ways to win slot by Microgaming, for this leading online and mobile slot game designer seem to be obsessed with this brand new playing format and structure but fortunately this slot does become a much more enjoyable slot to play thanks to that All Ways playing structure!
Play The Popular Thunderstruck 2 Mobile Slot Machine Here:

Terms and conditions to bonuses 18+ Gamble responsible.

Terms and conditions to bonuses 18+ Gamble responsible.
You are going to have to play at least 30 coins when you spin the reels of this slot to activate each of those 243 permutations of paylines, but with the coin settings being adjustable that means even when playing it on the lowest setting that being one penny then you will only be forced to play for stake of 0.30 to have hundreds of ways to win on each spin of the reels you play off!
There is also a lots of bonus features which can be triggered when you are playing the Thunderstruck II mobile slot game but you are only going to get the maximum number of options to playing off those bonus games when you unlock them all which is done imply by playing this slot for long periods of time until you trigger the bonus game a certain number of times!
What's on Offer?
The Wild Storm bonus game is awarded when you are playing the base game of this slot and when triggered the reels will shake about and slowly one at a time, up to five of the reel will have wild symbols attached to every single reel position, the aim of this completely randomly bonus feature is for all of the reels to turn wild for that guarantees you will pick up a huge winning payout when they are all turned completely wild!
There are several different free spins options that will be available to you once you spin in three or more of the Hammer scatter symbols, those symbols being scatters only need to appear anywhere on the visible reel positions for you to be awarded with the free spins feature round.
When you first trigger the free spins only one option is available to you but as you play this slot and trigger the bonus game more and more another option for playing off you free spins will open up and become available and then when you have played this slot and triggered the bonus games a certain number of times each time you trigger it after that you will have all of the available ways of being able to play off your free spin on offer to you.
This can be a great slot game to play but only once all of the free spins options have opened up so be prepared to play it for low stakes if you wish to allow you to open up all of the free spins options without you have to pay a small fortune doing so!
Why Play this Mobile Slot?
You can often find it is the older mobile slot machines that give you the most entertaining types of mobile slot playing sessions, and whilst this Thunderstruck slot game may not be one of the very latest all singing and all dancing slots you will find you will always look forward to those Ram symbols which are the scatter symbols dropping in for that third symbol could always spin in when two of them have appeared and that will of course mark the arrival of the free spins round!
Being one of Microgaming's most played slot game there is of course a reason many player look out for this slot and play it and that reason is that its payout percentage has been set as high as it can which is going to give you a sporting chance of winning and possibly winning big whenever you give it some play time, so make sure that you do play it when you are next in a slot playing mood as the winnings are always going to be there for the taking!
Play With a £$€ 200 Bonus Thunderstruck 2 Mobile Slot Machine Here:

Terms and conditions to bonuses 18+ Gamble responsible.

Terms and conditions to bonuses 18+ Gamble responsible.